Yulo Koepa Nunnery started out as a project of Universal Education School in Sarnath, India. The Tara Temple was established by Valentino, the director of the school, as a place for full time practice of the Mother Goddess Tara.
In early 2010 the Tara Temple together with the property and service buildings was offered to Kopan's Khachoe Ghakyil Ling Nunnery and was renamed by Lama Zopa Rinpoche Yulo Koepa, Tara Pure Land. Twenty nuns from Khachoe Ghakyil Ling Nunnery live and study there all year round under the care of the manager, Ven. Dekyi. Yulo Koepa is now registered as a NGO with the government of India. The gompa, and accommodation buildings are located amongst beautiful flowers, trees and a vegetable garden.
The main purpose the nunnery is the practice of Mother Tara, the female Buddha who vowed to come to the quick help of all that invoke her. The Praises to the 21 Taras, an invocation of the twenty one emanations of Tara, is recited 24 hours a day throughout the year with each nun taking a turn. Every morning the Four Mandala offering to Cittamani Tara is performed. The gompa of the nunnery features exquisite statues of the 21 Taras surrounding a life size statue of Green Tara.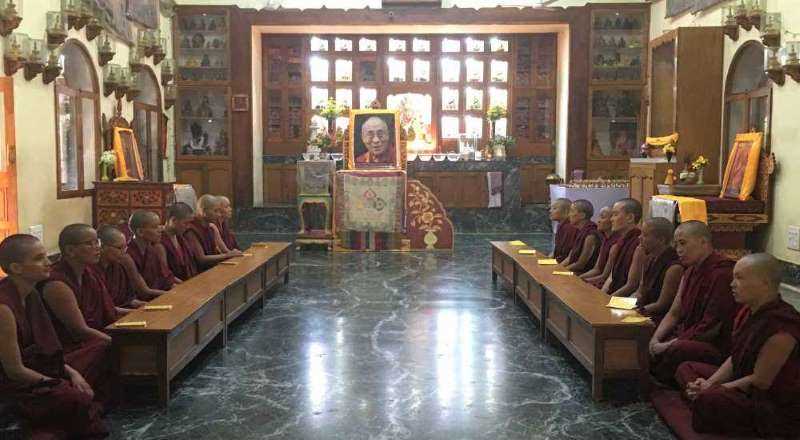 During the day the nuns attend classes that include Tibetan, English and Hindi, and study philosophy with the resident geshe. This way they stay ahead of their studies and can participate in the annual exams at Ghakyil Ling Nunnery. After two years the nuns return to Nepal to their mother nunnery and a new group of nuns to take over. The nunnery is located on the outskirts of Sarnath, near Varanasi. Sarnath is a very holy place, where Shakyamuni Buddha turned the Wheel of Dharma for the first time for a small group of disciples. The stupa in the Sarnath park commenmorating this event is surrounded by ruins of the monasteries and hermitages that were there hundreds of years ago.
In this part of India it is extremly hot in the summer months and the nuns from Nepal are not used to this. The living conditions are very difficult,and a new accommodation block was built which has improved the living conditions greatly. Three years ago a new kitchen was built to allow for more hygienic food preparation, while a generator has been installed to make the electricity supply more reliable. Yuloe Koepa is supported by donations of benefactors who are devoted to Mother Tara, and who wish to encourage this wonderful and rare activity.

Find out how you can support the nuns at Yulo Koepa - Tara Pure Land
Guests are welcome at the nunnery. Please call us for a booking.
Contact us:Phone: +91542289050Email:
This email address is being protected from spambots. You need JavaScript enabled to view it.