Monastic debate is the traditional mode of study of the profound texts of the Tibetan Buddhist tradition. Through debate, the nuns test and consolidate their classroom learning. For many nuns, taking part in the Jang Gunchoe is an essential component of working towards higher academic degrees, such as the Geshema degree, equivalent to a PhD in Tibetan Buddhist philosophy.
October and November 2018 was an extraordinary time. The annual, inter-nunnery debate called Jang Gunchoe was held at Kopan Nunnery in Nepal from 3 October to 4 November 2018. More than 600 nuns from nine nunneries in India and Nepal attended this powerful educational event. The chance to have nuns from many nunneries gather and intensively debate with each other is a great opportunity for ordained Buddhist women.

The fact that so many nuns wanted to attend this year's event is a testament to both its incredible value as a learning opportunity and the nuns' growing confidence. In the early years of the Jang Gunchoe, it was difficult to find nuns to participate because they lacked confidence and felt uncomfortable to join in. Now the nuns are eager to take part, knowing the opportunity it offers to gain skills in debating and to help them with their studies.
In past years, the number of nuns who participated in the Jang Gunchoe was also limited by the ability of the host nunnery to accommodate and feed visiting nuns from other nunneries. However, Kopan Nunnery is a large nunnery and had the facilities and capacity to house many nuns, so many more nuns were able to attend this year. We are extremely grateful to our supporters, including the Pema Chödrön Foundation and the Rowell Fund for Tibet/ICT, whose generosity enabled so many nuns to take part by helping with their food and travel costs.
Sheltered under tarps, about 600 Tibetan Buddhist nuns from at least 9 nunneries in India and Nepal gather at Kopan Nunnery in Nepal to practice Tibetan Buddhist debate for one month. Training in Tibetan Buddhist debate is an essential part of monastic education in the Tibetan tradition. Until recently, Tibetan nuns did not have the opportunity to fully study and practice Tibetan Buddhist debate, a process that joins logical thinking with a deeper understanding of Buddhist philosophy.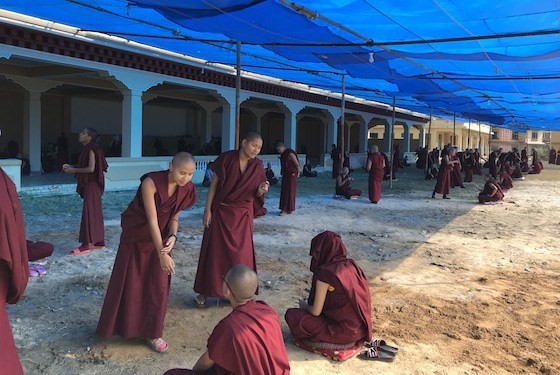 The annual debate session for nuns has been an integral part of the nuns reaching their current level of excellence in their studies. It is critical to fostering the nuns' ability to pursue higher degrees, such as the Geshema degree, which is roughly equivalent to a doctorate in Tibetan Buddhism. Since 2016, 36 nuns have passed the rigorous written and debate exams to become Geshemas – a historic milestone for Tibet. This achievement would not have been possible without the intensive training that the inter-nunnery debate helps provide.Taking part in the annual inter-nunnery debate allows nuns to gain knowledge and build confidence. By debating with nuns from other nunneries, they can "up their game" and prepare for higher degrees.

Dr. Elizabeth Napper, Co-Director of the Tibetan Nuns Project, said, "Opening up education to the women, particularly in conjunction with training in debate, has been transformative for the nuns. Not only have they been given access to the full intellectual richness of their Buddhist tradition, but also, through debate, they have been trained to actively engage with it in a way that gives them confidence in their knowledge. Their body language changes from the traditional meekness of nuns to that of women who occupy space with confidence in their right to do so."
The Jang Gunchoe yearly event empowers Tibetan nuns to become great teachers and examples for their nunnery communities. The host nunneries gain the experience of putting on large and complex events. His Holiness the Dalai Lama has been very supportive of the education of the nuns and has praised their debating skills.
His Holiness has said, "Nowadays, the Nalanda tradition of approaching the Buddha's teachings with logic and reason is only found amongst Tibetans. It's something precious we can be proud of and should strive to preserve.
*Nine nunneries from India and Nepal participated in this debate:
Dolma Ling Nunnery& Institute, Dharamsala, India

Geden Choeling Nunnery,Dharamsala, India

Jamyang Choeling Nunnery, Dharamsala, India

Thujee Choeling Nunnery, South India


Kopan Nunnery, host nunnery, Nepal

Jangchup Choeling, Nepal


Jangsemling Nunnery, Kinnaur, India

Jampa Choeling Nunnery, Kinnaur, India


Yangchen Choeling Nunnery, Spiti, India
*The Tibetan Nuns Project has been fully supporting the Jang Gunchoe for nuns since 1997.