Every morning between 8.30 and 9.30 am there is a rush of small nuns converging on the Clinic. They are lining up in the treatment room, to have their small and large ailments looked after. The ailments range from small scratches and abrasions, to a range of childhood diseases such as mumps, chicken pox, and a head fungus that is widespread in this part of the world. Cases of TB, typhoid fever, hepatitis and similar infections diseases are also occasionally occurring. But with a bunch of kids with too much energy, broken bones are a much more regular occurence.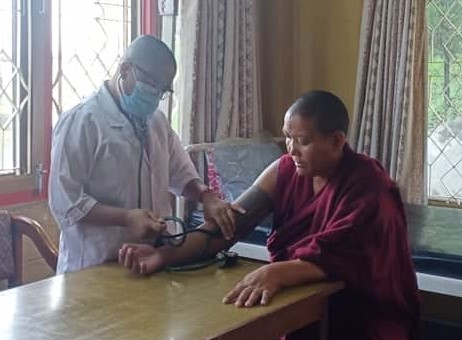 The Nunnery clinic is staffed by two nuns, with a doctor visiting once a week. The manager of the clinic is a trained nurse. Before being accepted into the nunnery all newcomers undergo a health assessment . Once they passed this, they receive some common childhood vaccinations as well as rabies, tetanus and menigintis vaccination. For serious cases sick nuns are taken to a nearby hospital. One of the nuns will stay with the patient to assist with the care, and arrange for food. (In Nepal, hospitals don't provide food for the patients.)
Medical care in Nepal is not as costly as in Western countries. However, the introduction of better health care and well equipped hospitals in in Nepal the cost of health care has increased. Additonally an aging population needs more medical care.Medical bills for 380 people can be quite substantial. The nunnery currently has a monthly bill of around 2000 US$ for medicines and medical treatment for all its residents. nuns alike.
Help us to provide the best possible medical care for our nuns.
Medicine - any amount

Medical equipment - basic dagnostic equipment needs replaments

Hospital treatment

Wages of medical staff


Wages of part-time doctor

or offer any amount towards the expenses of the medical clinic
| | | |
| --- | --- | --- |
| | | |
| | Our children thank you with big smiling faces | |
| | | |