Offering food to Sangha, the monks and nuns of the monastic communities is an age old tradition in all Buddhist countries. In Thailand, the monks go on their daily alms rounds for their food. In the Tibetan tradition, it is the monastery or nunnery who has to provide the food. Offering food creates mountains of merit and - positive potential for the sponsor. Even if you are not Buddhist, giving food is such an easy and satisfying way to practice kindness.
For a dynamic, growing community such as the nunnery a regular supply of healthy fod is important. The needs are very simple – rice, dhal, potatoes, vegetables, occasional fruit or yogurt, chapattis with peanut butter – really nothing fancy.
For breakfast Tibetan tea is offered with bread, and occasionaly there is a chapati with omlet or a boiled egg on the menu. Then there are occasional treats for special days, such as vegetable momos, omelets for breakfast, and a very occasional cheese sandwich. Once a week eggs are on the menu - mostly in the form of egg-curry. At 4 pm, after a hard afternoon in school, a snack is served with tea, before the nuns are going off to their memorizing sessions or philosophy classes. The evening meal consist of Thukpa, a Tibetan noodle soup that is the staple diet of all mountain people in the Himalayan area, alternating with fried rice or chow mein, the absolute favorites. Tea is served with every meal, sometimes milk tea, black tea or herbal tea.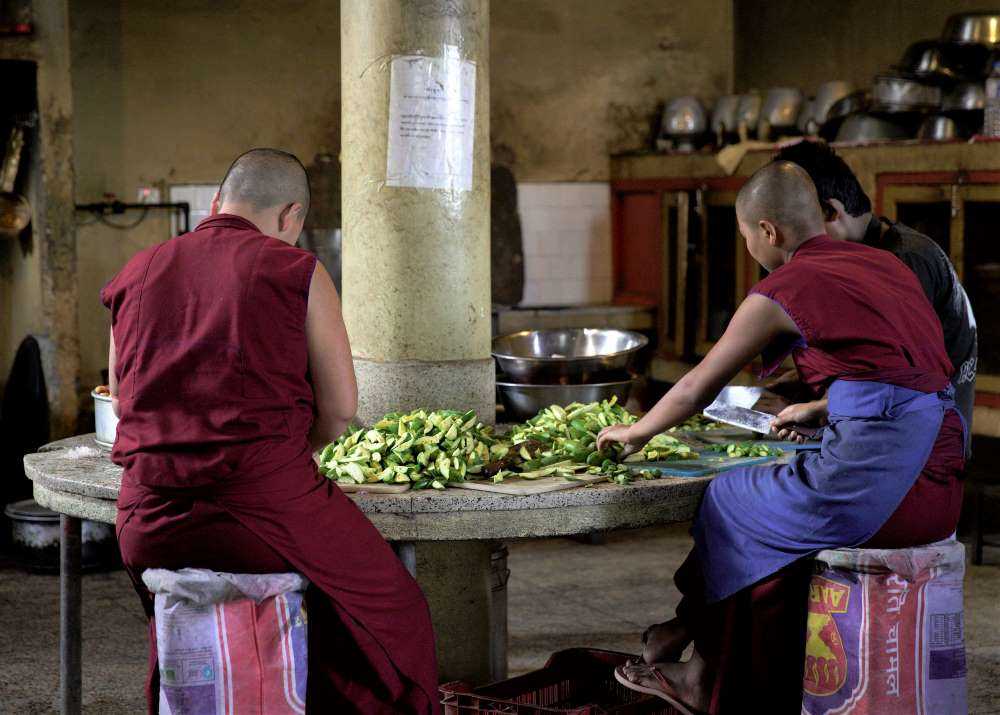 The cost of food in Nepal has increased a lot over the past few years and comes to around 1 US$ per person for three meals a day.Help us to give healthy and sufficient food to this growing community of nuns. Your name will be included in the daily morning puja, every day of the year. Giving to these worthy causes with a good heart and motivation will not only help the nuns, but will also give you the satisfaction that you are contributing to the survival of the religious and cultural tradition of Tibet.

How you can help
Make a one-time donation of any amount to the food fund


Offer special breakfast or lunch to the nuns on your children's or your own birthday. Send the dedication in the comment box

Sponsor lunch for all on a special Buddha day, such as Saka Dawa.
We will acknowledge all donations and your name will be added to the daily prayer list.
Cost of a meal for all 380 nuns
Normal breakfast: Tea, Tibetan bread 54 US$

Special breakfast: Tea, Chapatti with Omelet 99 US$

Lunch: Rice, Dhal, Vegetables, Fruit or Yogurt 499 US$

Dinner: Vegetable or Noodle soup, bread, tea 199 US$

Or give whatever you can manage.